Chidamide (Tucidinostat, Trade name: Epidaza®), a Class 1.1 innovative drug, is a novel molecular entity with global patent protection and the first marketed product developed independently by Chipscreen Biosciences. The first original chemical new drug approved in China, Chidamide is also the first oral subtype-selective histone deacetylase (HDAC) inhibitor in the world, and represents a major achievement of the national 863 and Significant New Drug Discovery programs.
Chidamide is a subtype-selective benzamide inhibitor of histone deacetylase (HDAC) primarily targeting subtypes 1, 2, 3 of class I HDAC and subtype 10 of class IIb HDAC. Mechanistically, Chidamide modulates abnormal epigenetic regulation of chromatin remodeling in cancer by inhibiting relevant HDAC subtypes and increasing the acetylation level of chromatin histones, resulting in alterations to gene expression (i.e., epigenetic changes) in multiple signal transduction pathways, as well as cell cycle inhibition and apoptosis induction of tumor cells. Clinically, Chidamide has an overall regulatory activity on the body's cellular immunity, including the induction and activation of tumor cell killing mediated by natural killer cells (NK cells) and antigen-specific cytotoxic T-cells (CTLs).
In addition, Chidamide can induce the differentiation of tumor stem cells and reverse the epithelial-mesenchymal transition (EMT) of tumor cells through epigenetic regulatory mechanisms, thereby potentially playing pivotal roles in restoring the sensitivity of drug-resistant tumor cells as well as preventing cancer metastasis and recurrence.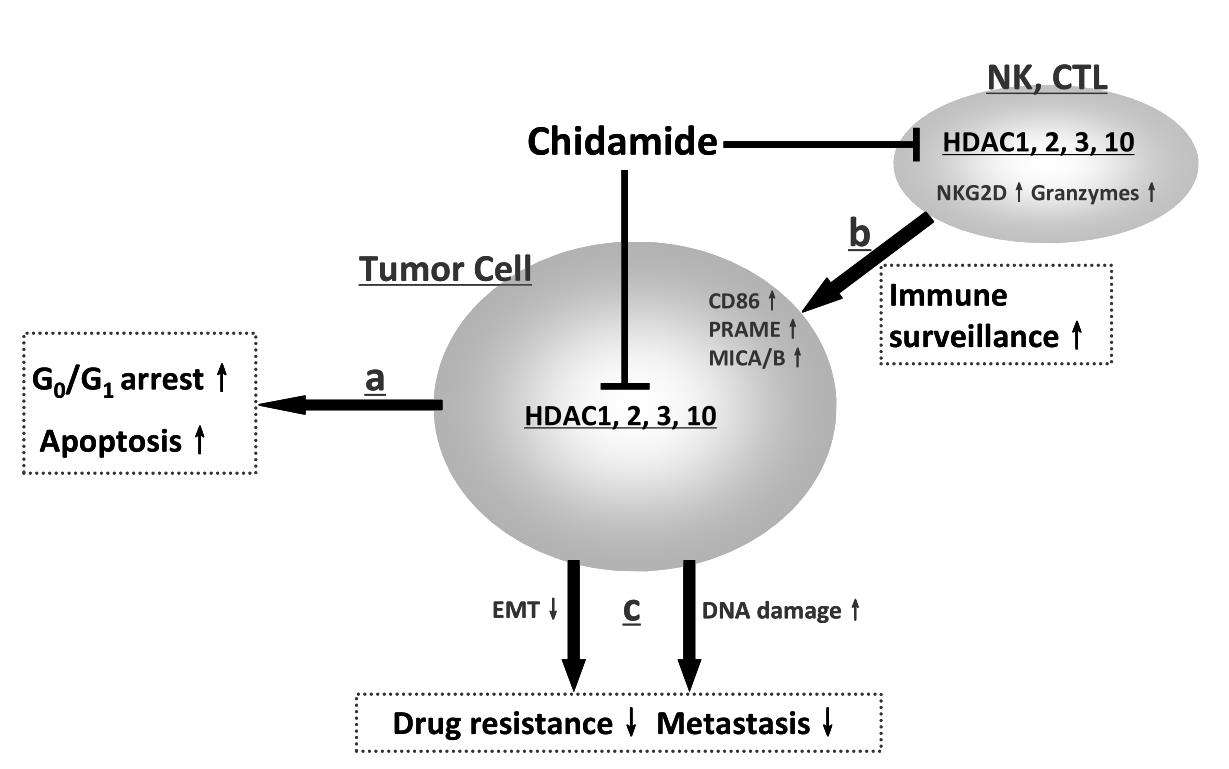 Figure. The molecular mechanisms of action of Chidamide (Epidaza®)
In December 2014, Chidamide was approved for the treatment of peripheral T-cell lymphoma by the CFDA (now NMPA), filling a gap in lymphoma therapy in China.
In July 2017, Chidamide was included in China's national medical insurance coverage, bringing its benefits to more patients.
In November 2019, Chidamide was approved by the NMPA in combination with an aromatase inhibitor for the treatment of post-menopausal patients with hormone receptor-positive, HER2-negative, recurrent or progressive locally advanced or metastatic breast cancer previously treated with endocrine therapy. This approval made Chidamide the first epigenetic drug approved for solid tumor therapy in the world, following groundbreaking evidence that Chidamide can effectively prevent tumor resistance in combination with other targeted drugs.
In April 2021, a new drug application for Chidamide in the treatment of peripheral T-cell lymphoma (PTCL), the second indication for Chidamide in Japan, was successfully submitted to the Pharmaceuticals and Medical Devices Agency (PMDA).
In June 21, a marketing application for Chidamide in the treatment of adult T-cell leukemia (ATL) was accepted by the PMDA, marking the first time a Chinese-developed drug had ever been approved for marketing oversea.
In Jun. 2021, Chidamide monotherapy to treat Adult T-cell Leukemia/Lymphoma (ATL) was approved for marketing in Japan.
In Dec. 2021, Chidamide monotherapy to treat Relapsed/Refractory (R/R) Peripheral T-cell Lymphoma (PTCL) was approved for marketing in Japan, which was a new indication approved following ATL in Jun. 2021 in the country.
In Mar. 2023, Chidamide was approved for the treatment indication of breast cancer in Taiwan, China.

Several clinical trials of Chidamide either alone or in combination with other anti-tumor drugs for the treatment of hematological tumors, solid tumor malignancies and human immunodeficiency virus (HIV) are now being run simultaneously in different countries and regions, such as the United States, Japan, China, and Taiwan (China).

Please visit the Epidaza® website (www.epidaza.com) for more details